How to Encourage the Elderly to Exercise?
To enjoy the good glow of health, you must exercise – Gene Tunney

Exercise, as we all know, is of pivotal significance to enjoy the goodness of health. From early on in our childhood, we have been taught the health benefits of maintaining a healthy diet along with a good exercise regime.
Maintaining a consistent exercise routine becomes all the more important as we progress in age. Not only it holds significance for our physical body but it also helps in keeping a healthy frame of mind.
Exercise for old people is a therapeutic engagement that can free them from their existing ailments while allowing them to live with a greater degree of health. In a nutshell, we can conclude that exercise holds the secret of keeping both the physical and psychological health in place.

The next question in line is on motivating an elderly person to exercise.

The resistance coming from the reduced mental and physical strength often acts as a barrier between their intention and action of regular exercising. This is where motivation plays its part to help them gain the required will and confidence in adopting a daily plan of exercise.

Here are the few tips to encourage the elderly on their way of healthy living.
Introduce Technology

Seeking the help of technological advancements is one of the easiest and effective ways of motivating the elderly.

With buying devices like Fitbands and Activity trackers, you can encourage them to have a daily track of their physical activity. Monitoring the daily results will not only give them a required push to set their little targets but also the courage to beat them to get charged in their body as well as in their confidence.

2. Encourage Smaller Goals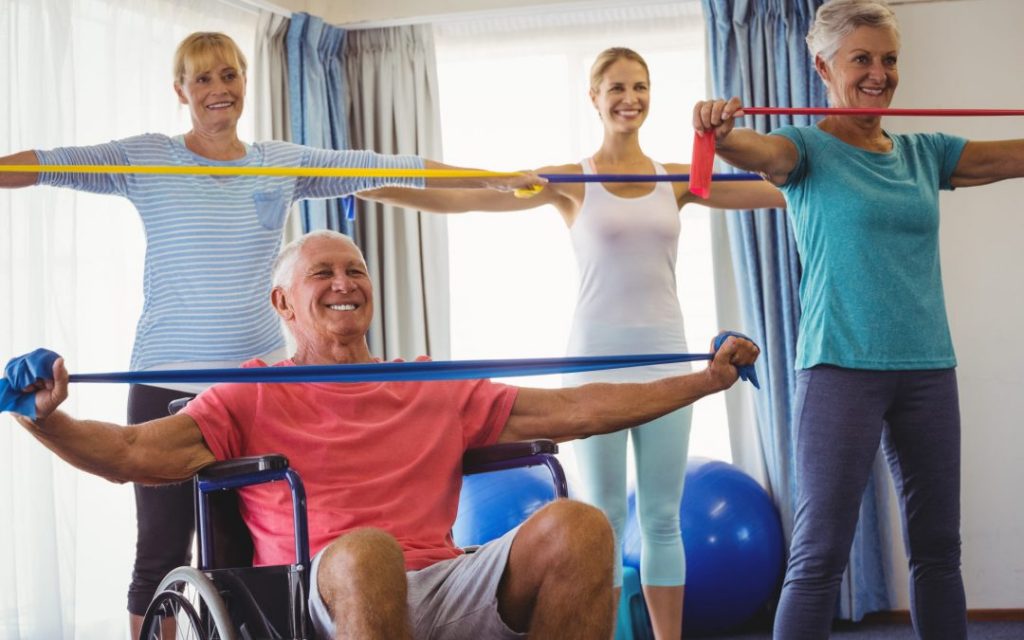 The good thing about setting the smaller goals is that they are easily achievable. Once you sign them up for a routine where they consistently follow the route of exercising, there is enough room to elaborate it with time.
Starting a tough routine of exercising might deter them from continuing it for a longer period. Therefore, it is essential to keep it simple and bare minimum to fuel the fire of consistency.

3. Reward their Efforts:

Rewarding the efforts can be a far more effective strategy than any other ploy to encourage them in their journey of exercising.

Whether with praise of mouth or buying them the stuff of their choice, you can propel their enthusiasm a hundred times.

Giving them the earned reward for their efforts, you are not just multiplying their confidence, happiness, and courage but are helping them reach the farthest in the way of adopting a healthy lifestyle.

4. Sign them up with like-minded people
Never underestimate the power of a community or a network circle.

Getting them across a bunch of people who share the same interests or perhaps becoming a great company in their pursuit of daily exercise is anytime a great initiative.
Interlinking the socializing with the exercising is the key where you can initiate a self-sustaining mechanism of them indulging in the healthy routine of physical activity and exercising.
5. Daily Planner:

By defining their daily exercise-plans and activities on a calendar or planner, it becomes a lot more encouraging for them to follow the path of daily exercise.

Through experience, we see that a goal becomes much more attainable and easy to reach when properly fragmented in the course of daily actions.
Similarly, when the exercise routine is laid on the planner of health apps or otherwise, it becomes a great impetus for them to follow a healthy routine.
6. Hire a Professional Coach

We can assume that needing a company in the growing years of life remains a great concern. Just as the physical aspect impacts mental health so does it work in the reverse order. Therefore, sometimes it becomes essential to work for their psychological areas of life.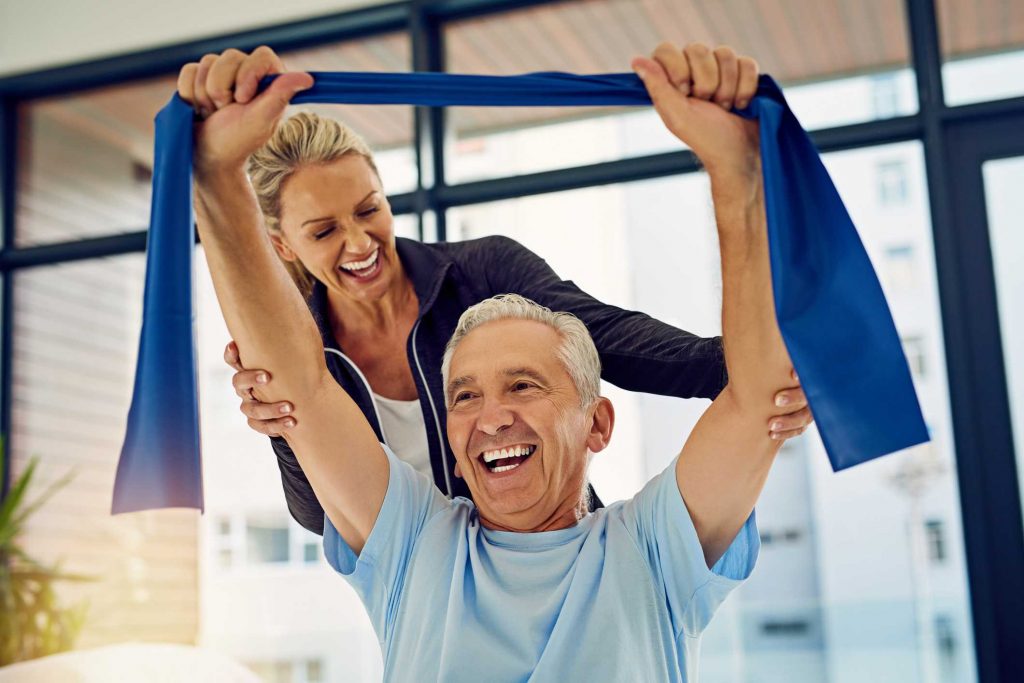 Assigning a dedicated coach would mean that they will have the complete attention and focus of a coach who would not only keep their physical goals in check but would become a source of inspiration for them to lead a happy life.

7. Align the Physical Activity with their Interests:

One of the easiest ways to engage the elderly in the routine of exercise is to align their interests with physical activity. Inspire them for a walk in the green plush gardens if they are one of those nature lovers. Sign them for a gym custom or perhaps a dance class when you know they would let go of every resistance coming in the way of shaking a leg on their favorite music.

Persuading them for the things they already like is easier than to sign them up for the tasks they don't intend to do.
Final Thoughts
Rightly said that 'Exercise is a celebration of what your body can do and not a punishment for what you ate.'
By letting them adopt a healthy lifestyle of exercising, contributing to the health of their body and mind when you encourage them to step into their power, not only they live more joyously and purposefully but would infuse your life with vitality.