Full Body Workout Challenge and Weight Loss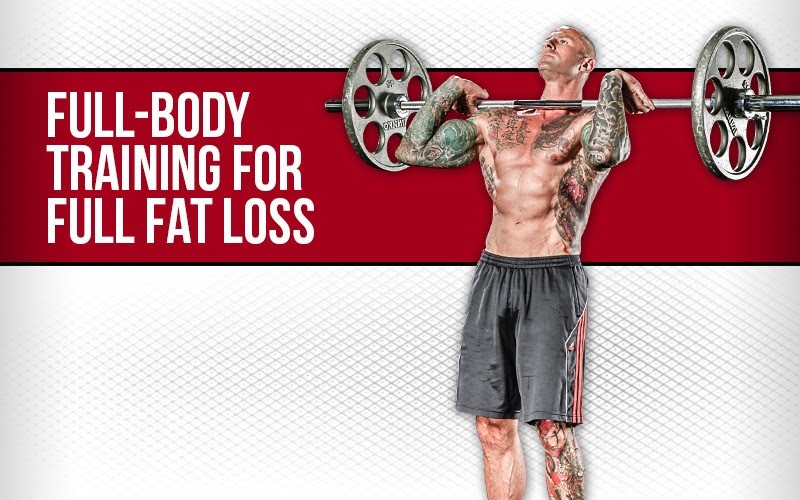 These days many people are facing health issues. The busy schedule and stress have forced many to grow extra weight. As a result, they are relying more on medication to improve health.
But, when it comes to weight loss and toned body, medication is not as effective as a workout. A full-body workout is one of the most effective ways to reduce body fat. It is an efficient way to target every major muscle group.
When it comes to full-body workout, the main focus is laid on the upper body, lower body, and basic core exercises. This helps to build a basic foundation for a toned and muscular body. The best thing about a full-body workout is, it doesn't require any specific and costly workout machines. The only thing you need to consider is, you have to give equal importance to both strength training and aerobic exercises.
Let us proceed with a full-body workout challenge to reduce weight and to get a toned body.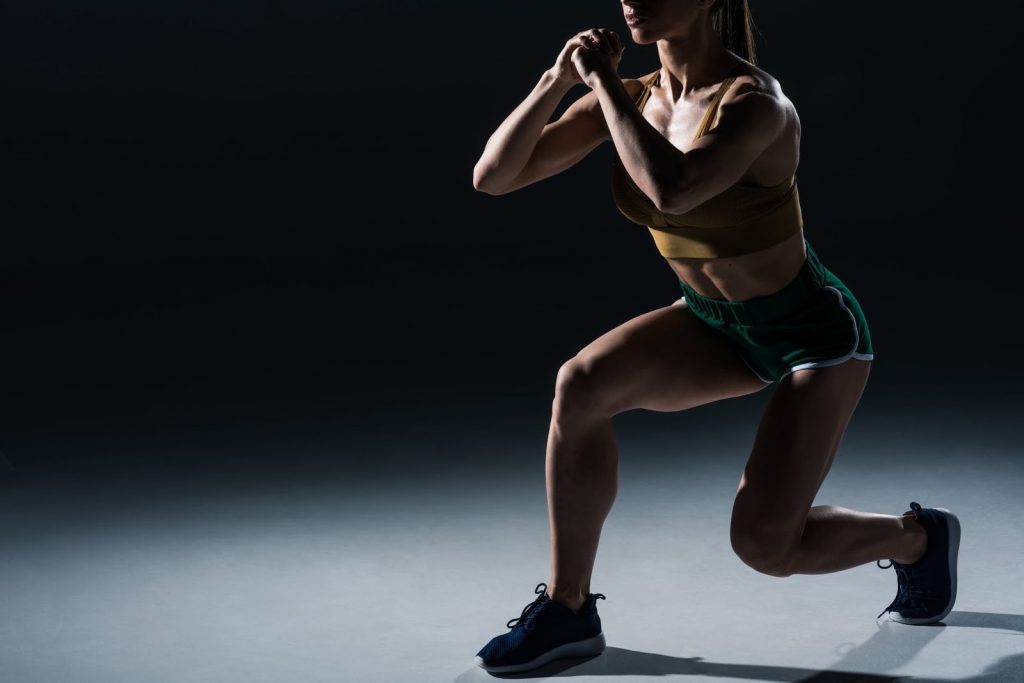 Warm-up: Whether its a strength training or aerobic workout, it is good to have some warm-up before a workout. It is essential for preventing injuries and for boosting fitness performance. It is a good move to go for some stretching and for some cardio activity at least for 8-10 minutes before workout. You can even take the help of some smaller weights for the same.

2. Push-ups: When it comes to full-body workout push-ups plays a crucial role, especially when the upper body is concerned. It is one of the effective exercises for targeting chest, shoulders, back muscles, biceps, and triceps. It is also effective for abdominal muscles that are considered core muscles.

You can perform 3 sets with 10-12 reps for each set. Although you are using your knees as your support point, the main targeting muscles will be your upper body muscles.
Here you need to avoid sagging down, arching up, dropping your neck, or hunching your shoulders. These can cause more damage than benefit.
3. Squats: When done with your upper body, you are required to work on your legs. There can be much fat on your hips and thighs in addition to belly fat. Squats are a good workout to target your quadriceps, hamstrings, and calves. You can change your tempo to sneak in some cardio. This will help you to get rid of some extra pounds.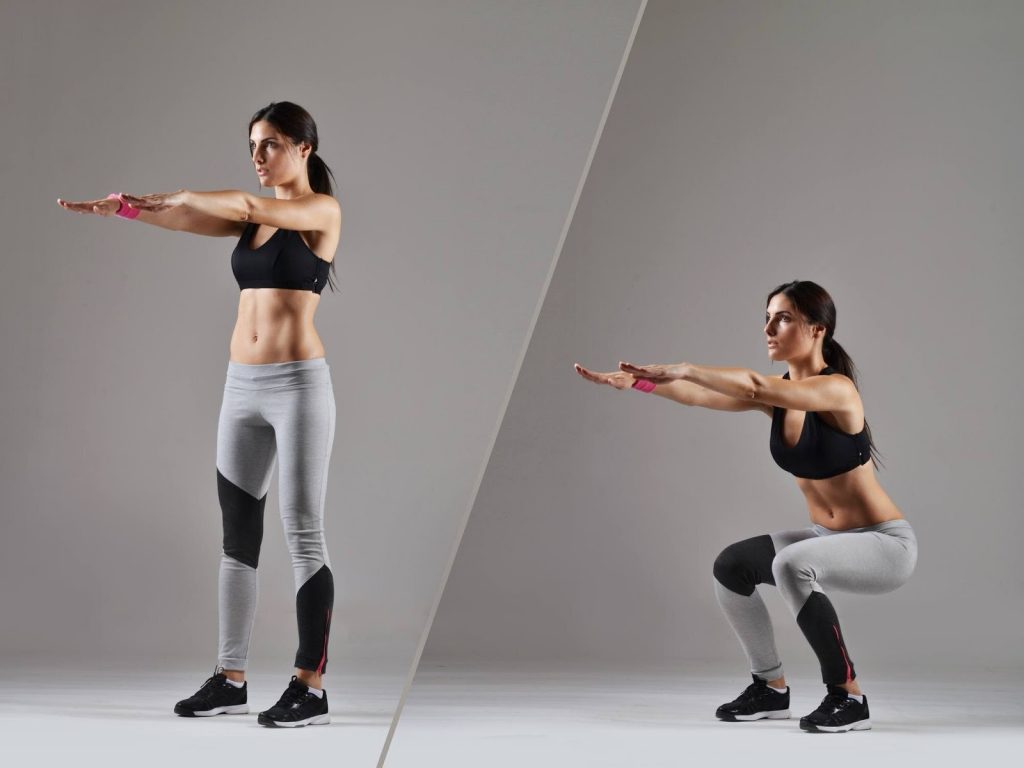 You can perform 2-3 sets of 10-12 reps to get effective results. You can go for a short break of 10-15 seconds before proceeding to the next step.
Moreover, when you perform squats on a regular basis, it can improve blood flow in a body especially, the lower back area and you will also be able to strengthen your heart, improve joint health, mobility, and flexibility. It also benefits your overall posture and muscular strength.
4. Burpees: Full-body workout is all about targeting all major muscles of the body. This will help to peel off extra fat. But when you are having a busy schedule and don't want to go for push-ups and squats separately, you can go for burpees.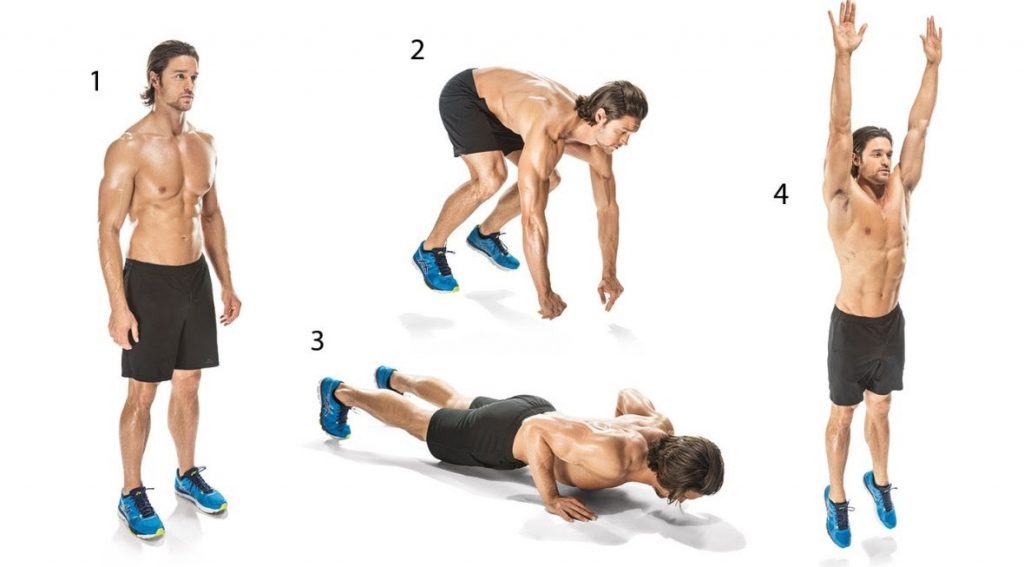 Burpees will give you an advantage of both in less time. It is a bit tougher than both push-ups and squats, as you have to perform both at a single time. But when it comes to results, it can take your cardio endurance to a new level. It will also help you to melt down your fat rapidly. It is good to start with 8-10 burpees at a time.
Once you become comfortable you can increase both reps and sets as per your comfort level. For better results, you can go for 3-4 sets with a maximum of 15 reps. Then you can lower the number of reps in the second set.
5. Running: When it comes to a full-body workout there is no match to running. Running is not only a good cardiovascular exercise but also one of the effective exercises to target all major muscle groups. It basically comes in the category of high-intensity interval training (HIIT).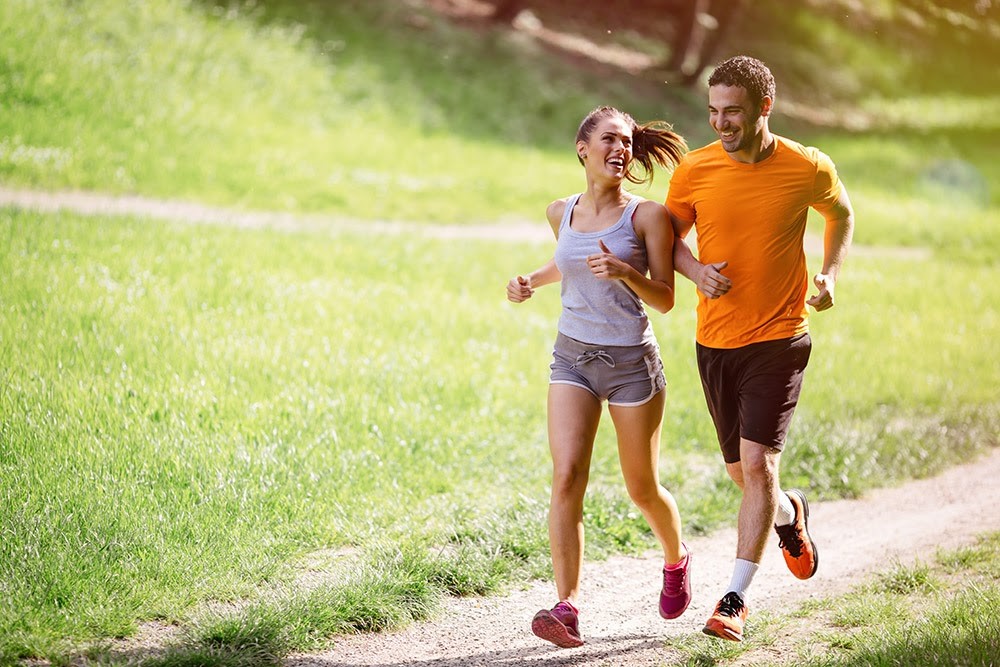 If you want to build your muscles and want to lose fat at a rapid pace, running should be your first option. It burns calories at a rapid pace and produces much heat within your body. But before going to running it is advised to go for some warm-up. You are also required to choose the right shoes for providing you a good grip and balance. When it comes to a track, you are advised to go with a track that is free of any irregular surface and has no bumps.
Conclusion: When you want to go for a full-body workout with the purpose of losing fat. You need not go for any specific coach or follow some medication. You need not invest in heavy and costly gym equipment. Even you need not pay heavy gym bills. Your body is self-sufficient to get in shape itself. You only need to work on it. You are required to change your eating habits. You are required to choose your meals wisely. Above all, you need to work-out by following a good routine.
All it requires is some dedication and effort from your side. Now which workouts to follow, how to follow, and for what duration to follow is presented to you by fitness-freaks.co. So take a full-body workout challenge and reduce your fat wisely and rapidly without any injuries.