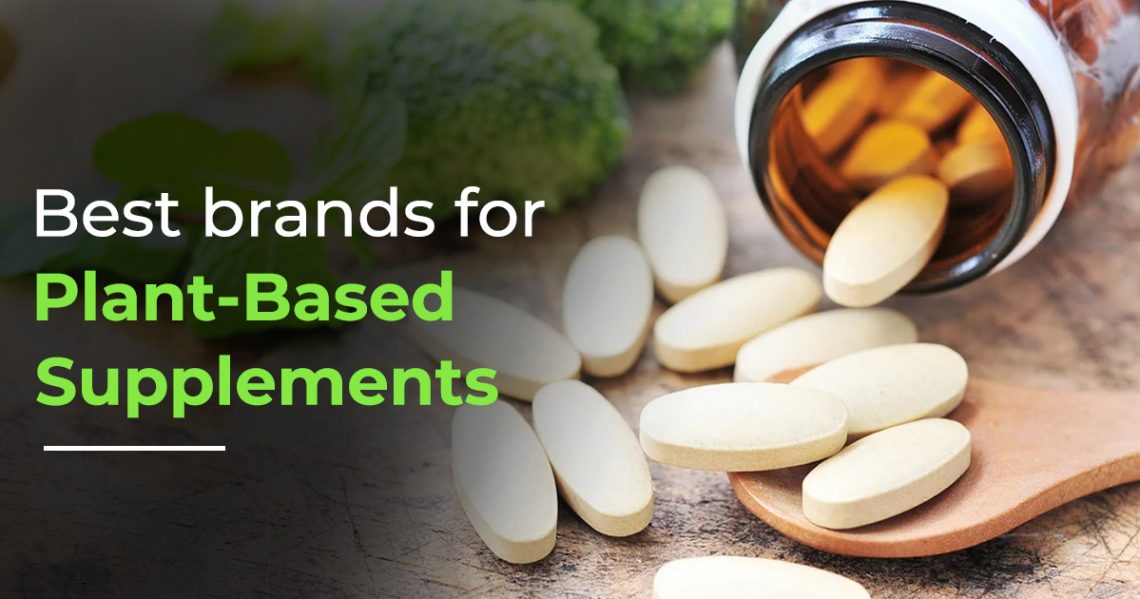 Top 10 brands of plant based supplements
The demand for plant-based supplements is increasing as these supplements help to gain muscle mass. So, if you are looking for the best brand of plant-based supplements, read this blog

Introduction

In recent years, retail sales of plant-based food and beverage products have far exceeded general grocery sales. Plant-based supplements are in high demand because of growing plant-based diets and the rising demand for protein supplements.

Plant-based proteins are essential macronutrients. These macronutrients support muscular and bone health as well as immune system strength.

Consumer's increasing interest in plant-based nutrition, a favorable perspective toward the sport and health nutrition industries, increasing inclination toward the vegan diet, and increasing demand for personalized nutrition are all contributing to the market's growth.

Moreover, growing economics in Asia-Pacific, Latin America, and the Middle East as well as the increase in novel-plant protein supplement releases, are likely to grow opportunities for this market.

In this blog, we will explore the top 10 brands of plant-based supplements for you. By knowing these brands, you can easily choose one of them as per your needs.

But before jumping into details of the top 10 plant-based supplement brands, first, we will discuss plant-based protein supplements briefly.

So, let's begin without further delay.

Why Plant-Based Protein Supplements?

Plant-based foods and beverages have health benefits and contain important minerals. The changing lifestyle has compelled many people to focus on high protein supplements.

That's why plant-based protein supplement companies have begun incorporating high protein supplements into their portfolio.

Now, the plant-based protein market is growing at a faster speed. It is even being projected that the plant-based supplements market will reach $9.57 billion by the end of 2027, at a CAGR of 7.8% in the forecast period of 2020 to 2027.

Now it's time to cast a light on the top 10 plant-based supplements brands in the world.
Top 10 Brands Of Plant-Based Supplements

Here are the top 10 brands of plant-based supplements:

1. Cargill

Cargill is one of the leading plant-based protein supplement companies. This company was founded in 1865 and its headquarters is in Minneapolis, US.Cargill is the picture of the plant-based companies segment. It circulates ideas and products to bring out the best quality food products.

The company works through five business segments – food ingredients & bio-industrial, animal nutrition, protein and salt, transportation & metals, agriculture supply chain & energy.

2. Roquette

Roquette, another top plant-based supplement brand, was founded in 1933 and headquartered in France; Roquette is involved in manufacturing specialty food ingredients and pharmaceutical excipients.

It is dedicated to creating world-class plant-based proteins, best in the class of top plant-based protein companies, for increasing muscle mass.

3. Glanbia Plc

Glanbia Plc was founded in 1997 and its main headquarter is in Kilkenny, Ireland. This company is not only engaged in the development and research but it is also engaged in the innovation, manufacture, and marketing of nutritional solutions.

The company operated through two business segments- Glanbia Nutritionals and Glanbia Performance Nutrition.

The Glanbia Performance Nutrition segment has a portfolio focused on plant-based protein supplements. And it delivers nutritional and functional ingredient solutions as well.

4. Archer Daniel Midland (ADM) Company

This is a top American brand of plant-based supplements founded in 1902 and headquartered in Chicago, Illinois, U.S.

It is one of the top plant-based protein companies that provides a portfolio of ingredients and flavors for beverages and foods, supplements, and nutrition for domestic animals.

Plus, the company gives plant-based supplements through the food ingredients product segment.

5. Kerry

Kerry was founded in 1972. Its headquarter is in Tralee, Ireland. Like other top brands of plant-based supplements, this company also operates via two business segments-taste & nutrition and consumer foods.

It provides plant-based supplements through its Taste and nutrition business segment. The company's plant-based proteins are mostly used in pet food, meat & poultry, seafood, beverages, and bakery stores.

6. AMCO Proteins

This brand of plant-based supplements was founded in 1956 and headquartered in Burlington, New Jersey, U.S.

This company offers guaranteed and best quality products. The products provided by this company are milk protein, vegetable protein, whey protein, and protein hydrolysates.

7. Nutiva Inc.

Nutiva Inc. was founded in 1999 and its headquarter is in California, U.S. Nutiva Inc. is involved in producing organic food products such as protein shakes, coconut flour, and red palm oil.

In the plant-based protein supplements section, this brand offers coconut-based products for extra nutrition.

8.Tate & Lyle PLC

Tate & Lyle PLC company is located in London, U.K. This brand is well known for blending protein-rich ingredients with technology to make the introduction of world-class products that are liked by consumers all over the world.

Plus, this company offers various other products such as nutritive sweeteners, ethanol, industrial starches, and animal feeds.

9. Iovate Health Sciences International Inc.

This brand was founded in 1995 and headquartered in Oakville, Canada. This company is involved in manufacturing health and nutrition supplements. The company offers plant-based protein supplements via its brand, Purely Inspired.

10. MusclePharm Corporation

This company was founded in 2006 and headquartered in California, U.S. This company offers a variety of powders, capsules, tablets, and gels.

The company mostly targets fitness enthusiasts across the professionals, weight training, combat sports, bodybuilding, and other physical activities.

Bottom Lines

These are the top 10 brands of plant-based supplements. Go with any of them as all these brands have their health benefits. So, do not miss to check out these top 10 plant-based protein supplement brands.